Neha Wadekar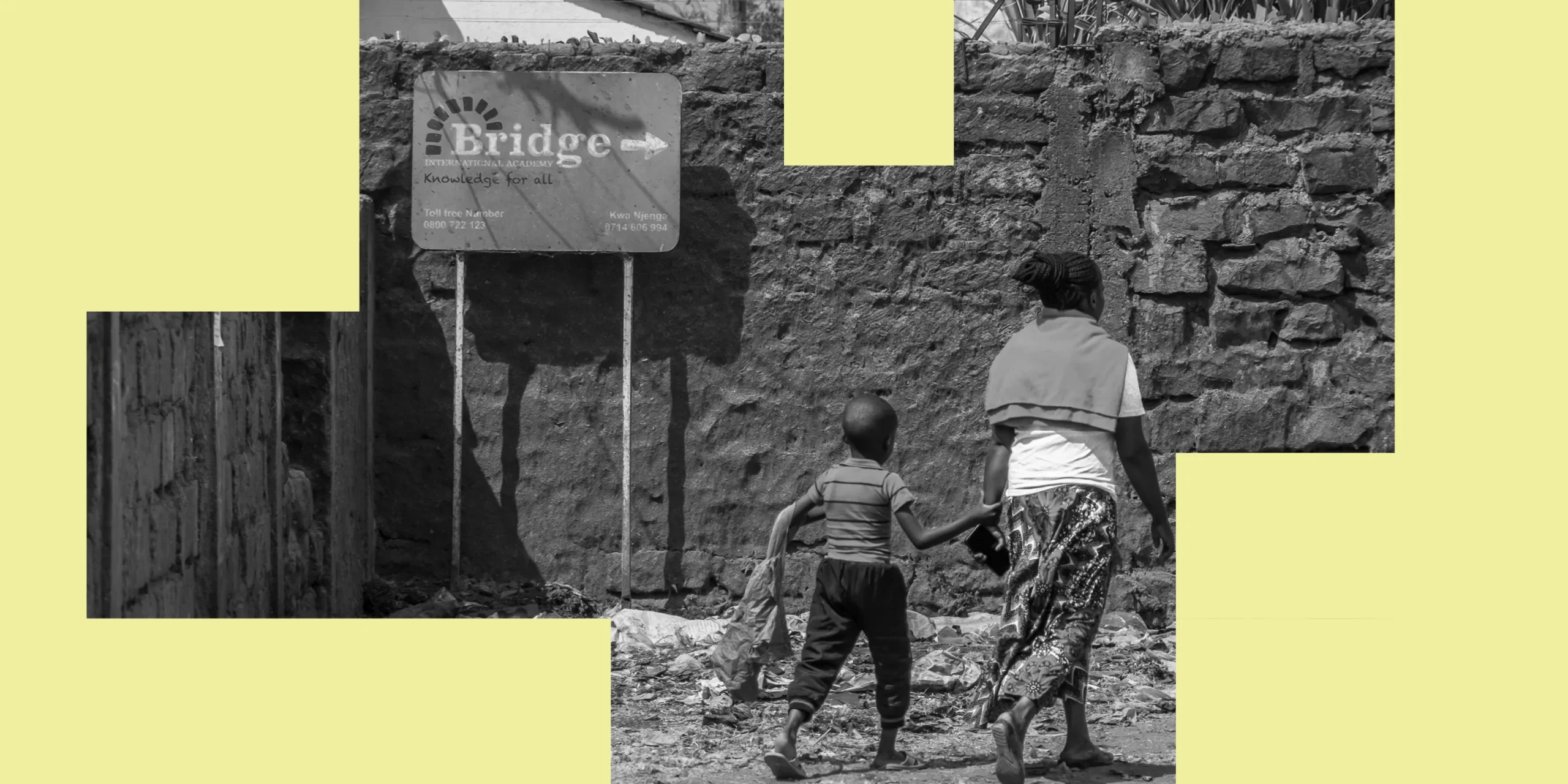 March 28, 2023Radio
A startup tried to revolutionize education in Africa. But did children pay the price?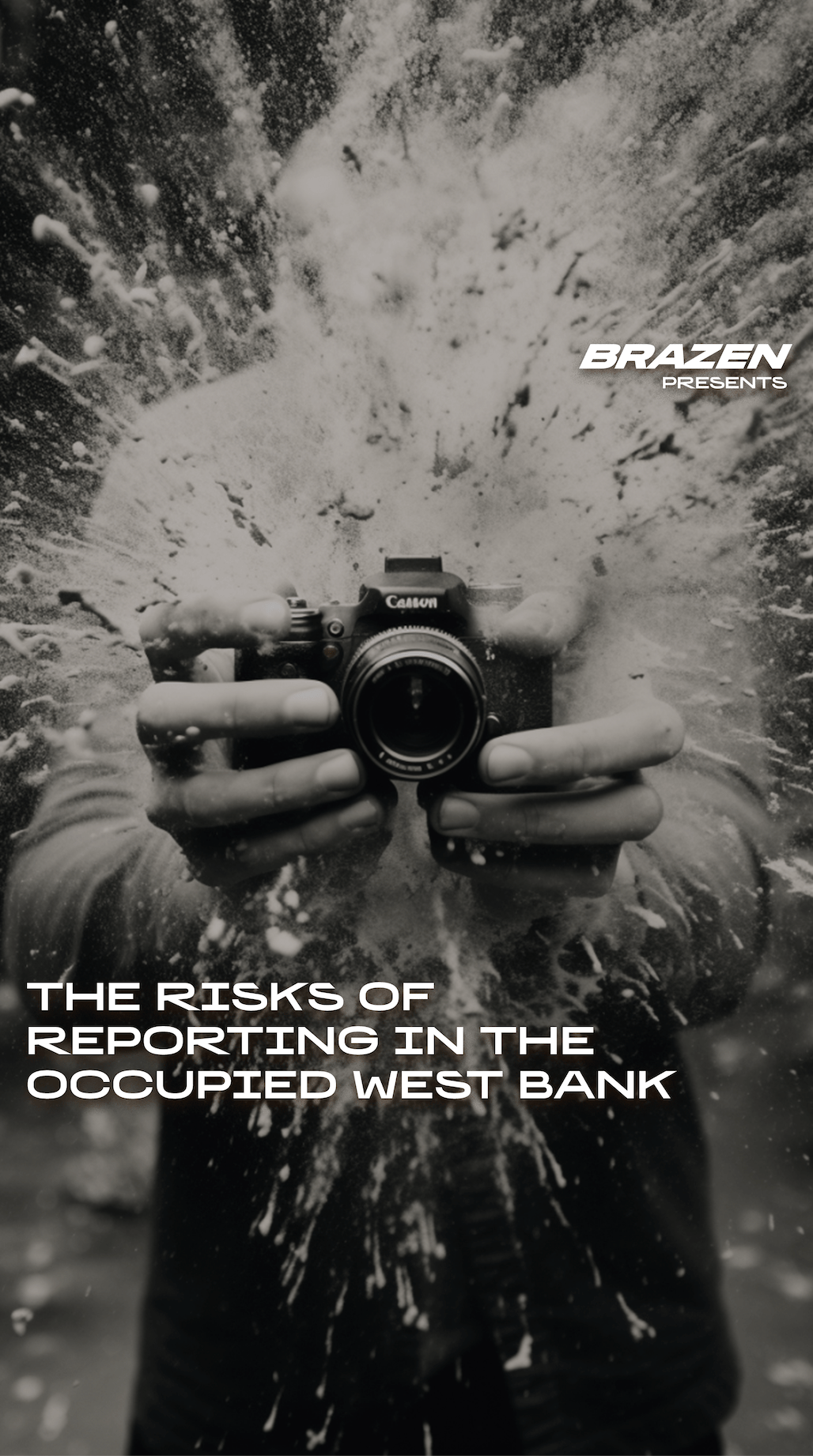 September 29, 2023Radio
For my latest episode for Project Brazen, I spoke with Ahmed Shihab Eldin about reporting stories the authorities don't want told from dangerous places around the world. We also remembered the late Shireen Abu Akleh, a prolific journalist who was killed while reporting in the Occupied West Bank. Ahmed says democratic governments and the Western media are partially responsible for the increasingly hostile conditions the media faces while doing its work.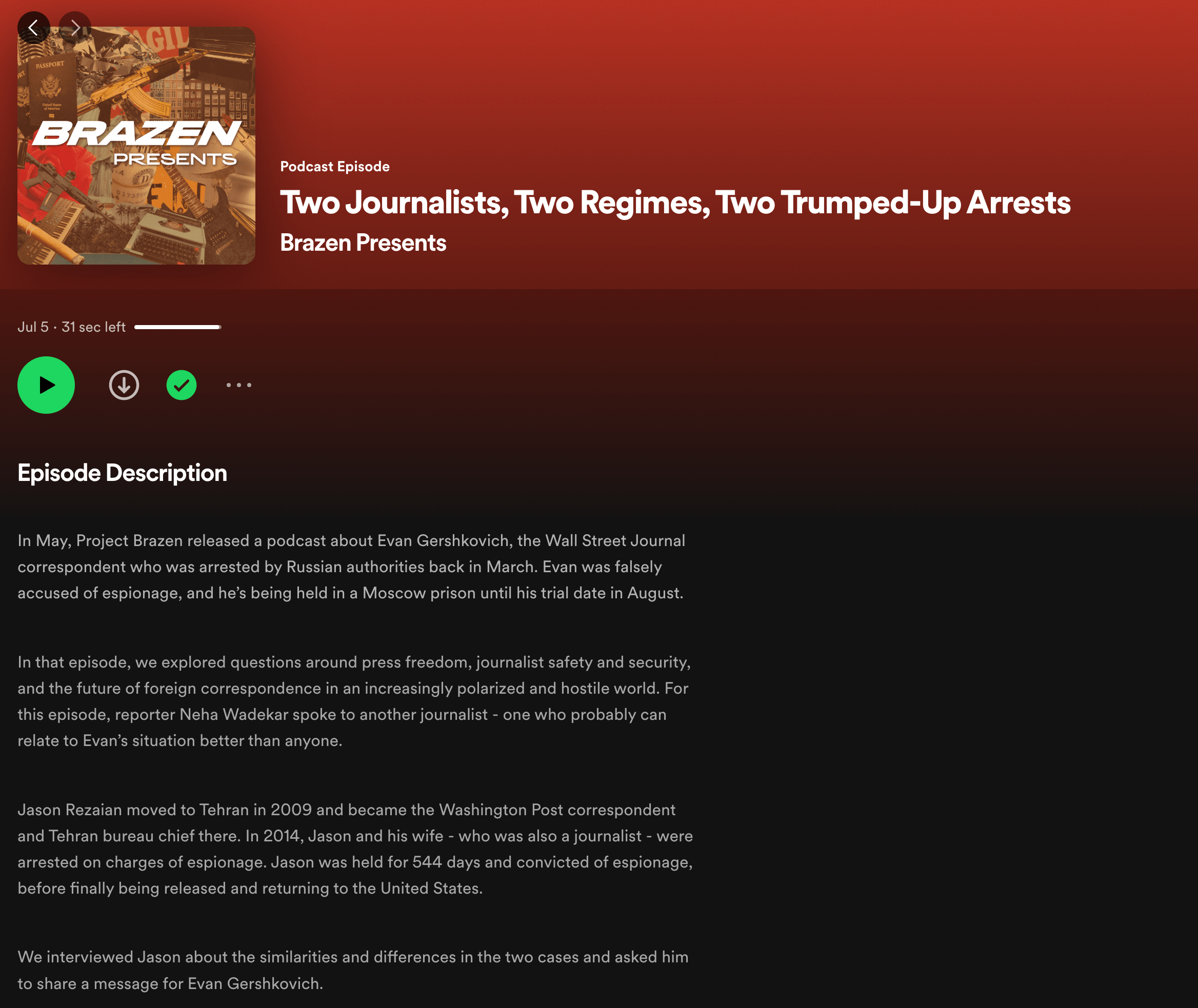 July 5, 2023Radio
We recently released a podcast about Evan Gershkovich, the Wall Street Journal correspondent who was arrested by Russian authorities back in March. Evan was falsely accused of espionage, and he's being held in a Moscow prison until his trial date in August.
In that episode, we explored questions around press freedom, journalist safety and security, and the future of foreign correspondence in an increasingly polarized and hostile world. For this bonus episode, I spoke to another journalist – one who probably can relate to Evan's situation better than anyone.
Jason Rezaian moved to Tehran in 2009 and became the Washington Post correspondent and Tehran bureau chief there. In 2014, Jason and his wife – who is also a journalist – were arrested on charges of espionage. Jason was held for 544 days and convicted of espionage, before finally being released and returning to the United States.
He has documented his experience in a book, as well as his podcast, 544 Days. It's a gripping story that also includes Jason's reflections on and analysis of the events – hyperlocal, regional, and global – that surrounded his arrest.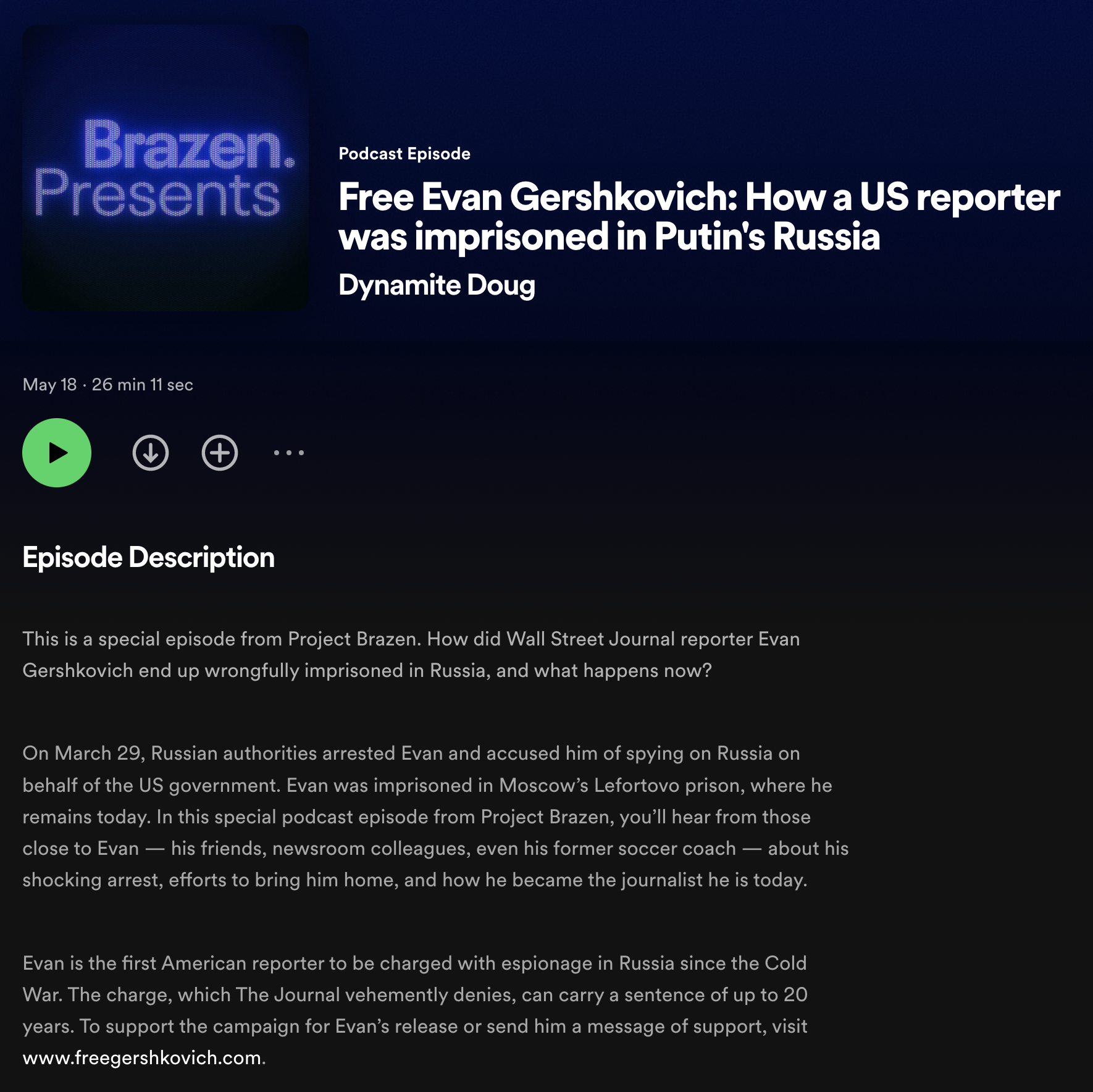 May 18, 2023Radio
How did Wall Street Journal reporter Evan Gershkovich end up wrongfully imprisoned in Russia, and what happens now? On March 29, Russian authorities arrested Evan and accused him of spying on Russia on behalf of the US government. Evan was imprisoned in Moscow's Lefortovo prison, where he remains today. In this special episode from Project Brazen, you'll hear from those close to Evan — his friends, newsroom colleagues, even his former soccer coach — about his shocking arrest, efforts to bring him home, and how he became the journalist he is today. Evan is the first American reporter to be charged with espionage in Russia since the Cold War. The charge, which The Journal vehemently denies, can carry a sentence of up to 20 years.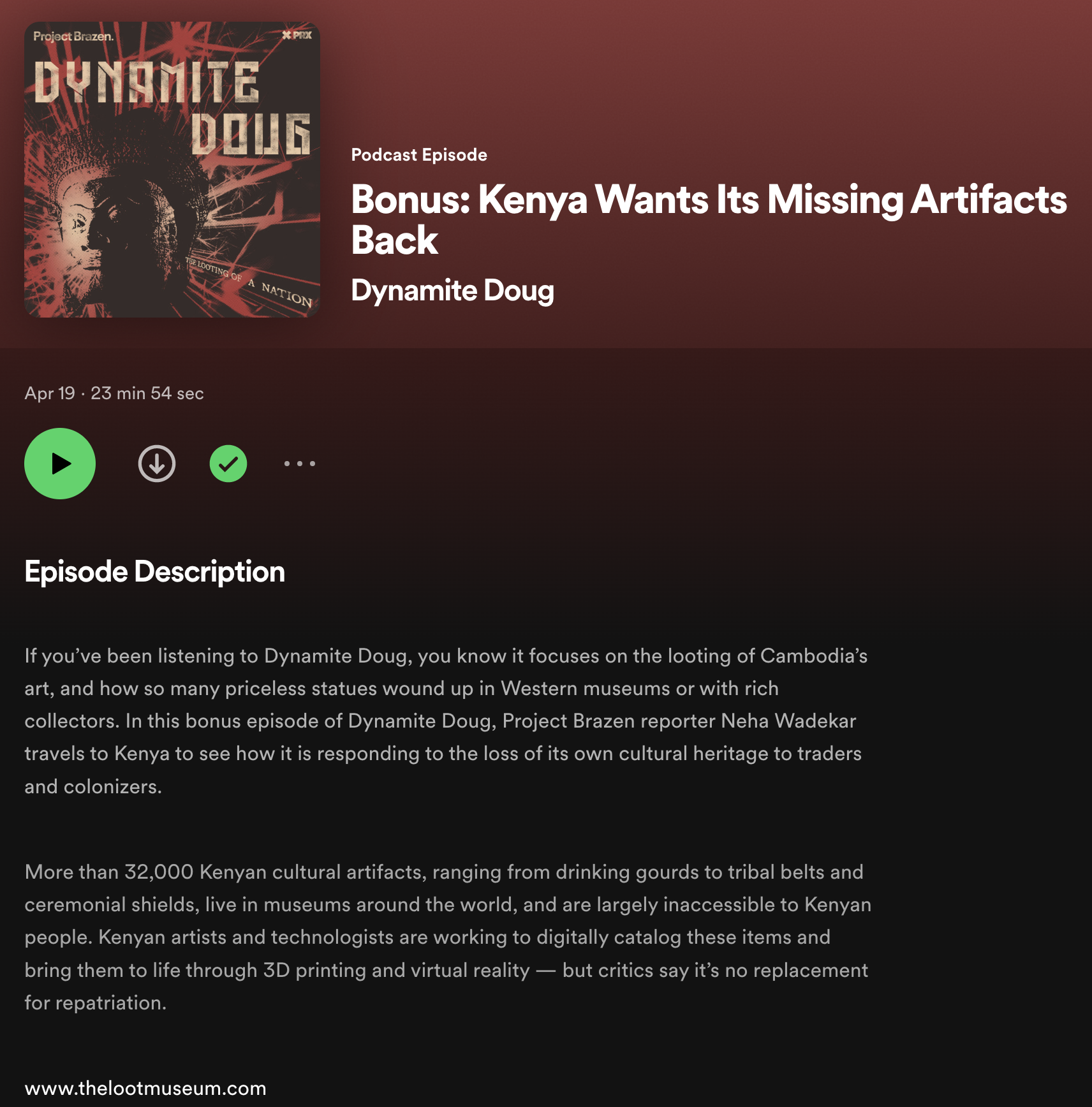 April 19, 2023Radio
In this bonus episode of Dynamite Doug, I traveled to Kenya to see how it is responding to the loss of its own cultural heritage to traders and colonizers. More than 32,000 Kenyan cultural artifacts, ranging from drinking gourds to tribal belts and ceremonial shields, live in museums around the world, and are largely inaccessible to Kenyan people. Kenyan artists and technologists are working to digitally catalog these items and bring them to life through 3D printing and virtual reality – but critics say it's no replacement for repatriation.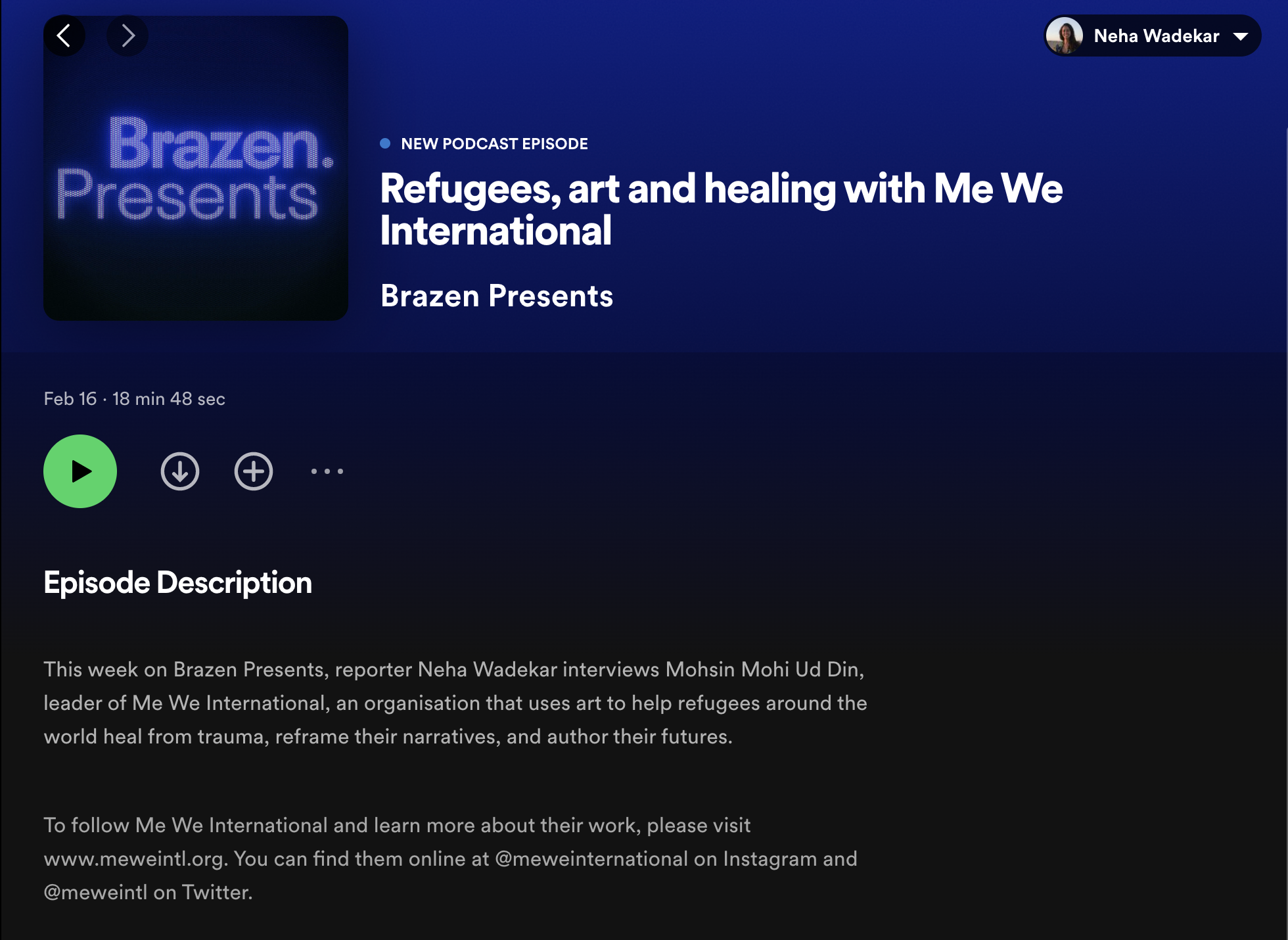 February 16, 2023Radio
In this bonus episode of Kabul Falling, I interviewed Mohsin Mohi Ud Din, the founder of Me We International, an international organization that uses art – like poetry, creative writing, song, dance, and theater – to help refugees heal from trauma and author their futures.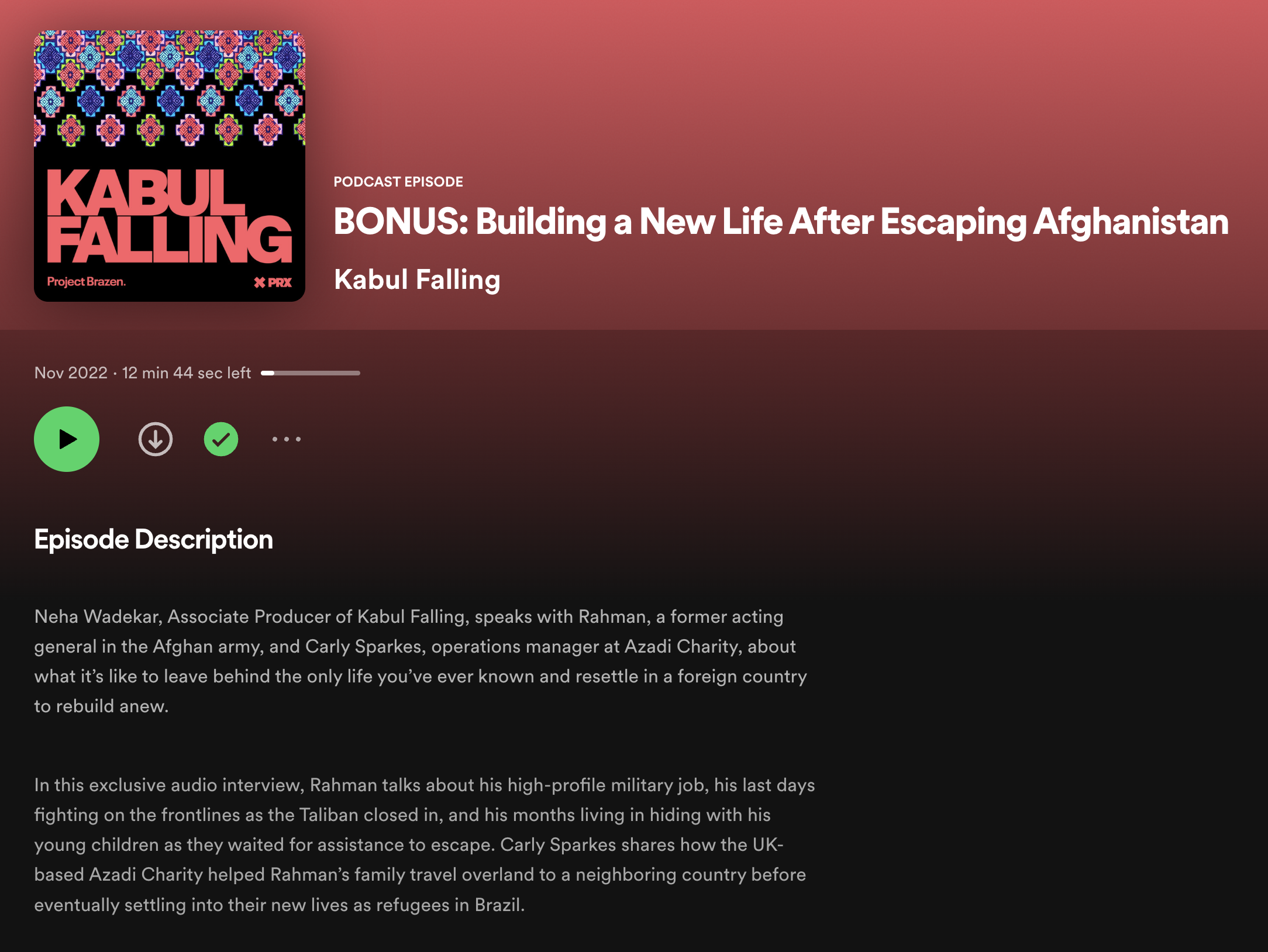 November 10, 2022Radio
Neha Wadekar, Associate Producer of Kabul Falling, speaks with Rahman, a former acting general in the Afghan army, and Carly Sparkes, operations manager at Azadi Charity, about what it's like to leave behind the only life you've ever known and resettle in a foreign country to rebuild anew.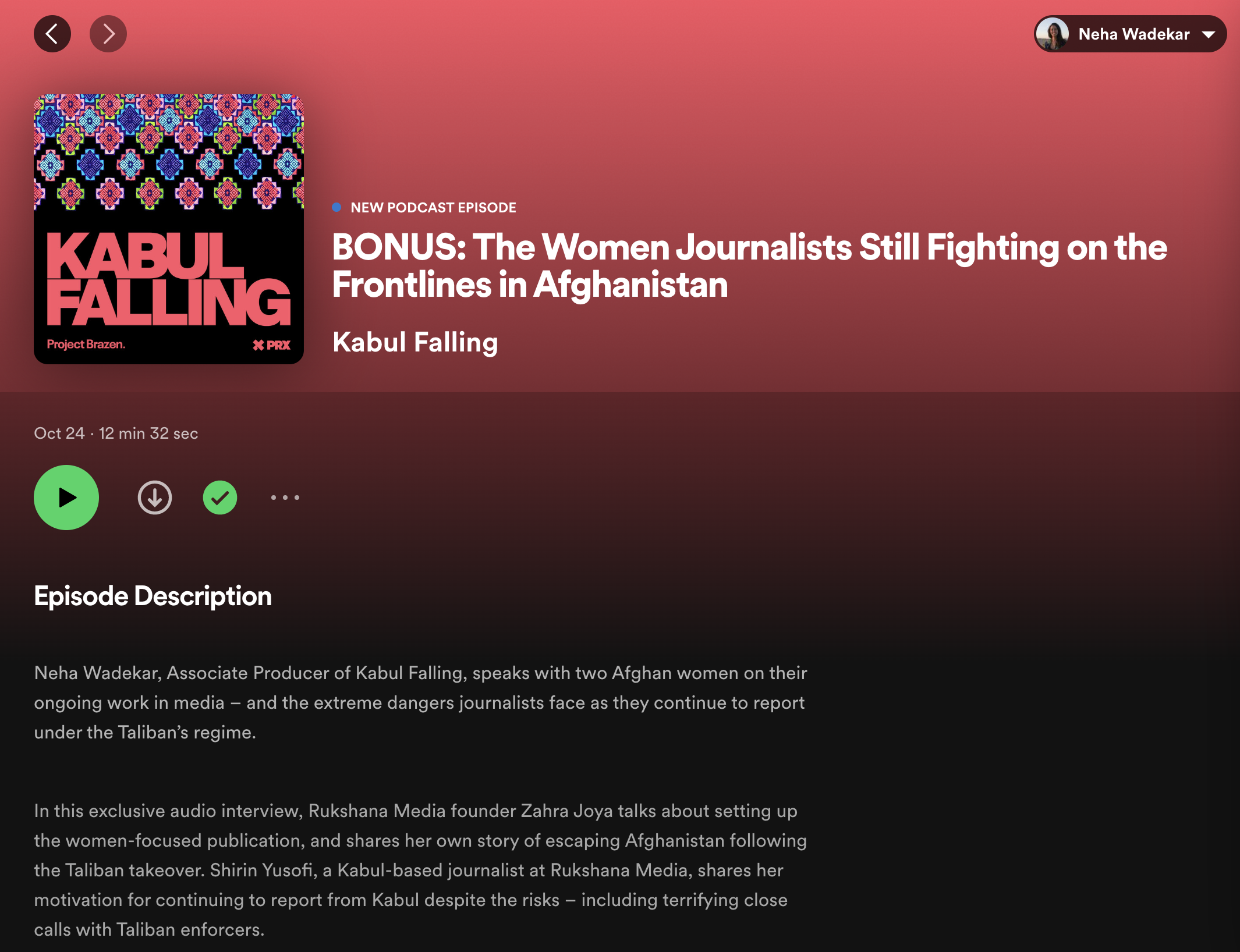 October 24, 2022Radio
Neha Wadekar, Associate Producer of Kabul Falling, speaks with two Afghan women on their ongoing work in media – and the extreme dangers journalists face as they continue to report under the Taliban's regime.
In this exclusive audio interview, Rukshana Media founder Zahra Joya talks about setting up the women-focused publication, and shares her own story of escaping Afghanistan following the Taliban takeover. Shirin Yusofi, a Kabul-based journalist at Rukshana Media, shares her motivation for continuing to report from Kabul despite the risks – including terrifying close calls with Taliban enforcers.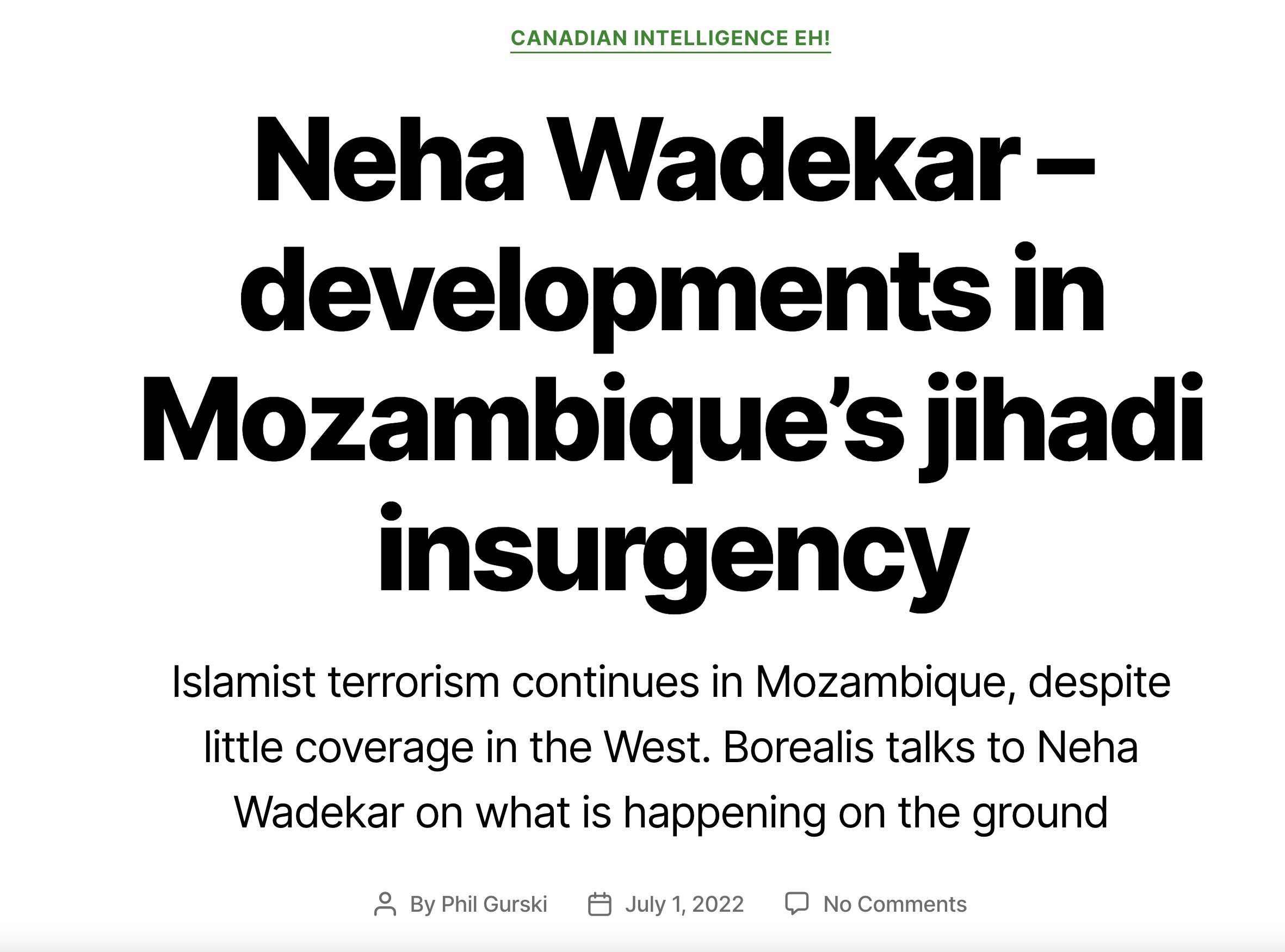 July 2, 2022Radio
The world is chock full of jihadist violence as our news feeds show us every day. Still, there are places that seem to escape our attention, despite the ghastly nature of the killing. Luckily there are intrepid souls who bring us this information. Borealis has a conversation with Neha Wadekar on the situation in Mozambique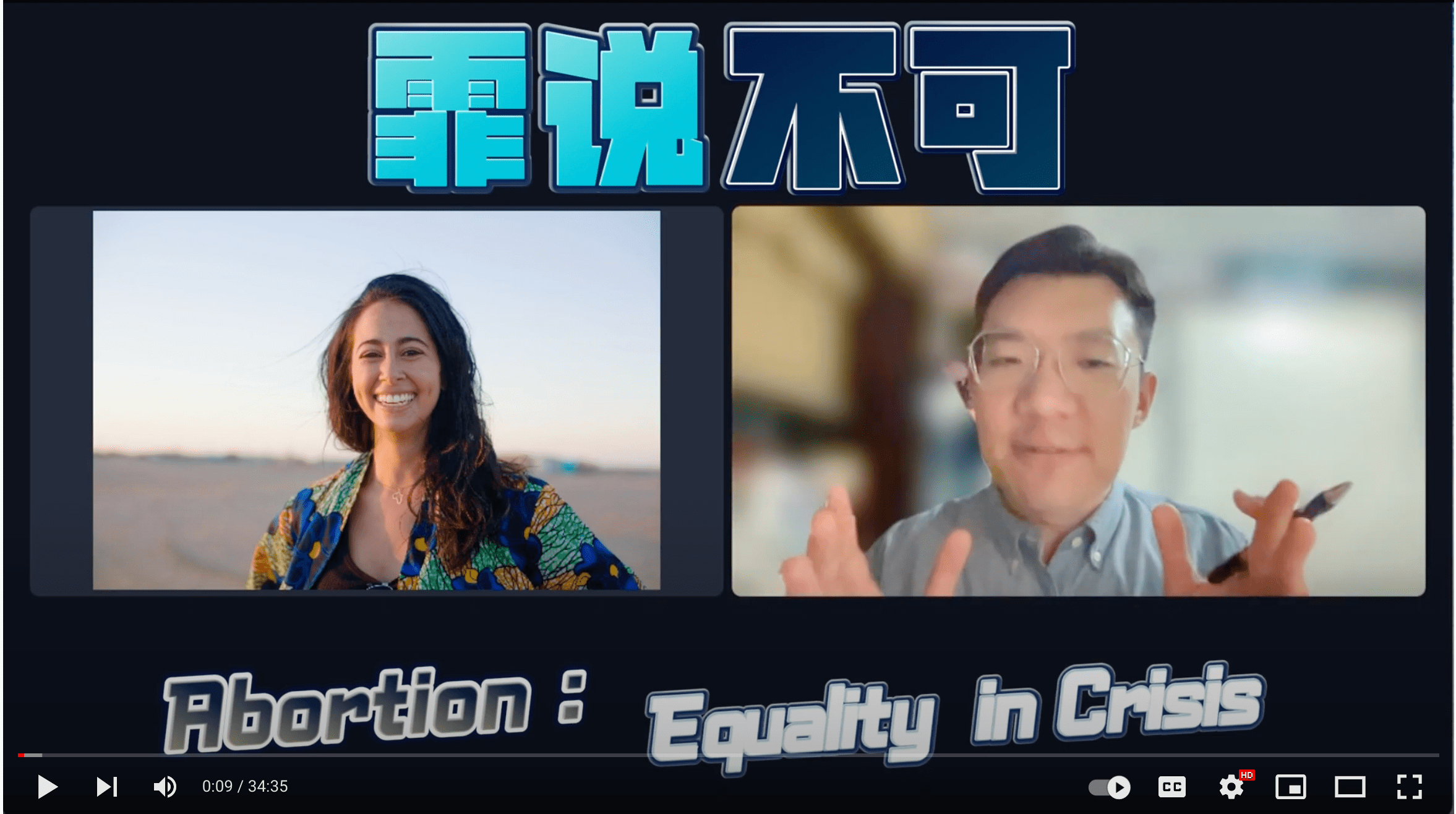 May 22, 2022Radio
Abortion debate has been one of the critical and influential issues within the US political and social changes, more and more people are rather outspoken, in terms of protecting and advocating for their own rights. Meanwhile, across the continents, female citizens in other nations are also struggling with the same issue. Among the nations in Africa, women no longer can find legal clinics for safe abortion, instead, they are playing fire with "illegal places." Neha Wadekar, one international journalist joined the latest show to explain more.